Immerse yourself in Carclew's main exhibition for 2023 showcasing 13 talented young South Australian Artists. A range of disciplines on display will include interactive sculpture and narrative, video projections and contemporary installations.
In the wake of the global COVID-19 pandemic, Touch Starved invites visitors to embark on a profound exploration of the human experience, focusing on the reclamation of touch in a post-pandemic world. This timely exhibition serves as a testament to the fundamental need for physical connection and the impact that prolonged isolation has had on our collective psyche. Through a diverse range of artworks from Carclew's emerging artists, Touch Starved aims to provoke contemplation, empathy, and a renewed appreciation for the power of touch.
The exhibition features a thoughtfully curated selection of artworks that engage with themes of longing, vulnerability, and resilience. Each piece provides a unique perspective on the significance of touch, exploring its absence, its rediscovery, and the transformative effects it can have on our well-being. From evocative sculptures that invite tactile exploration to immersive installations that stimulate the senses, Touch Starved encourages visitors to question their own relationship with touch and consider the profound implications it has on our emotional and physical selves.
Touch Starved will be on display 9am-5pm weekdays, 3 August to 27 September at Carclew House.
Events
Exhibition Opening Event
Carclew invites you to the exhibition opening event for Touch Starved at Carclew House on Thursday, 3rd of August 2023. Join us for drinks as you explore the interactive artworks and hear a few words from our Emerging Curator, Lia Karabatsos.
Time: 5:30pm – 7:30pm
Date: Thursday, 3rd August   
Where: Carclew House 
Open Studio
Discover a whole new dimension of art at our Open Studio event! Join us for a day filled with interactive installations, captivating sculptures, and pieces that beckon you to touch, feel, and connect with art in ways you never thought possible. Our Sharehouse residents' art spaces will be open for public viewing, with two art-based workshops being run for adults and children. Don't miss out on this extraordinary opportunity to connect with art on a deeper, more tangible level.
Time: 10am – 4pm
Date: Saturday, 26th August   
Where: Carclew House 
No bookings required, just drop on in! 
A few words from our Curator in Residence, Lia Karabatsos
"Throughout this exhibition, we invite viewers to embark on a deeply personal journey of introspection and reconnection. Touch Starved prompts us to contemplate the vital role touch plays in human connection and the profound effects its absence can have on our mental health. As we collectively emerge from a time of isolation and yearning, this exhibition serves as a catalyst for healing, empathy, and a renewed appreciation for the simple yet transformative power of touch."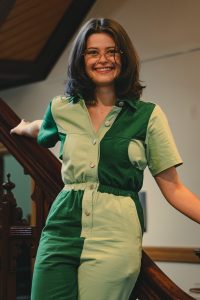 Featured Artists
Dani Lim (she/her)
Actor, Writer, Theatre Maker, Storyteller
Carclew Sharehouse Resident 2023
Carclew Fellowship Recipient 2023
Experience/Credits: Bachelor of Creative Arts (Honours) Drama 2021. Dora Abraham's Coldhands RUMPUS Theatre 2022, CAAP Artist Lab 2021/22 for OzAsia Festival, Like Me, Like You and Here & There ActNow Theatre for DreamBIG Festival
Interests: Telling Asian-Australian stories on stage, inspire others to pursue a career in the arts
Ryan Denner (he/him)
Visual Artist, Graphic Designer  
Carclew Sharehouse Resident 2023
Experience/Credits: Bachelor of Communication Design, Freelance Graphic Designer, has exhibited at Carclew Foyer Gallery & Murray Bridge Regional Gallery, he has a permanent exhibition at Renew Adelaide space, Index Adelaide
Interests: In search of a connection to community, culture and of religious places, icons, and feelings. 'God' is an extension of a feeling he has found would like to share
Tiah Trimboli (she/her)  
Filmmaker, Editor, Visual Artist
Carclew Sharehouse Resident 2023
Experience/Credits: Bachelor of Creative Arts (Screen Production). Tiah works as a Freelance Editor & Script Supervisor, has worked on professional & independent productions, including Windmill Pictures series Beep & Mort. She is also a video editor for Channel 7 News
Interests: Investigating immersive and experimental forms of filmmaking, with an evolving focus on themes such as modern identity and isolation. Incorporating different mediums into her work such as sculpture, photography, illustration, and sound
Emerald (they/them)
Multimedia Creative: Film, Photography, Styling, Poetry, Airbrush/Spray-paint, Sculpture
Carclew Sharehouse Resident 2023
Experience/Credits: Worked across several independent films and productions in SA
Interests: Observations in relation to healing, formative development, transformation and otherworldly creation, employing childlike motifs and specific dream-like stylistic atmosphere, writing analytical and expressive poetry and prose and working to create multimedia visuals. Emerald uses manual multiple exposure 35mm film, and their camera of choice is the Japanese film camera, Minolta X700, CineStill800T and Fuji400 film
Paige Glancey (they/them) 
Writer, Director
Carclew Sharehouse Resident 2023
Experience/Credits: MAPS Diploma of Film Graduate 2021. Directed several self-funded short films, exhibited at Feltspace DARK 2023 and worked closely with Morgan Sette, Tamara Hardman and Kirsty Stark
Interests: Creating dreamy worlds that explore the harsh realities of life through a philosophical lens, experimenting with various multimedia, editing and cinematography techniques to capture the magical feelings of existence
Lia (Vasilia) Karabatsos (she/they)
Curator, Artist, Poet
Carclew Curator in Residence 2023
Experience/Credits: Bachelor of Education/Bachelor of Sciences Flinders University. Lia works in art and education and enjoys combining the two having worked in OSHC programs, a PomPom Facilitator, and as a Vanguard at the Art Gallery of South Australia. As Curator in Residence, Touch Starved is the third exhibition she has curated, following Now But Sweeter and Sonder, both exhibited in the Carclew Foyer Gallery
Interests: Learning through interaction and play' nature, ability to be understood diversely by different age groups, and constant homages to the beauty of Biology and the natural world. Exploring the ever-expanding world around us to capture the quiet magic that buzzes in everyday normalcy
Fern Mines (she/her)
Dancer, Choreographer, Producer
Carclew Sharehouse Resident 2023
Experience/Credits: Bachelor of Arts (Dance) Contemporary, Western Australian Academy of Performing Arts (WAAPA) 2021. Fern was a performer & creative on three award winning Adelaide Fringe shows, including the Sustainability Fringe Award winning multidisciplinary immersive visual arts and dance work Biophilia (Producer), Shape of Play for which they won the Emerging Artist Award and I Know The End and securing overall Emerging Artist Award
Interests: Social, political, and environmental issues and exploring how movement and performance art can delve into, spark discussion of and promote change in these areas
Alix Kuijpers (he/they)
Dancer, Choreographer, Sound Designer, Drag Queen
Carclew Sharehouse Resident 2023
Experience/Credits: Bachelor of Creative Arts (Honours) (Dance) Flinders University and Adelaide Central School of Art, Alix has the unique credit of being the first dance honours student at a South Australian institution. Their work includes IMMATERIAL for which they received a first-class honour, Best Dance weekly Award for Adelaide Fringe debut 'i know the end' and coveted Emerging Artist Award for Fringe 2023. Carclew: dance class series Groundskeeping At a Mansion in the Dark. Toured SA and Europe participating in major dance festivals and working with practitioners
Interests: Alix is passionate about providing opportunities for their fellow emerging dancers and artists to make work, they are an advocate in this space. They make work on queerness and are influenced by pop culture. They also perform as drag queen ALIXXX
Samantha Sharplin (she/her)  
Filmmaker, Producer, Artist
Carclew Emerging Creative Producer 2023
Experience/Credits: Bachelor of Creative Arts with Honours Flinders University 2018
Working across the film industry in a variety of roles in the production department of film crews. Director of annual short film festival, "UNDEREXPOSED Adelaide Fringe Festival since 2020
Interests: Becoming more engaged with a variety of mediums, amplifying Australian voices and making Adelaide a more exciting place to be an artist
Chloe Noble (she/they/he)
Visual Artist, Creative Producer
Carclew Emerging Creative Producer 2023
Carclew Sharehouse Resident 2022
Experience/Credits: Bachelor of Creative Arts (Visual Arts) Flinders University/Adelaide College of the Arts 2019. Studio artist and committee member at artist run initiative Floating Goose Studios Inc. Chloe has exhibited work in solo and group exhibitions in galleries across the city including Gallery M, Ngutungka Arthur Art House
Interests: Painting expressionist portrait and figure paintings, and impressionist landscapes using watercolours, oils, and acrylics translating their feelings into a unique visual language, embracing gestural mark-making and colour harmonies. Recently, Noble has been delving into video, digital, animation and installation art, using art as a therapeutic outlet, drawing on their lived experiences of disability, chronic illness, neurodivergence, mental health, identity, and trauma
Melak Khaleel (she/her)
Visual Artist & Maker
Carclew Sharehouse Resident 2023
Experience/Credits: Bachelor of Law (Honours) and Bachelor of Visual Arts. Melak has recently started her visual arts practise and has already had several opportunities selling her work at markets, running arts workshops at PomPom & The Parks. Melak is presenting her debut solo exhibition as part of SALA at the Indigo Hotel
Interests: Deconstructing social constructs and stereotypes, exploring cultural and personal identity through a queer feminist lens. Influenced by her Muslim, Kurdish and Arab culture, Melak is committed to shedding light on the intricate intersectionality between culture, religion, politics, and identity, to pave the way for a new wave of thought-provoking and boundary-pushing art
Jerome Oosting aka Rome $outh (he/him)
Music Producer
Carclew Sharehouse Resident
Experience/Credits: Rome is a self-taught Music Producer whostarted at the age of 13.
Rome has gained experience in working with local artist, Ness, Ajak and Teresa Di Fava, having produced tracks for her up-coming project and directed her live shows
Interests: Genres ranging from Raggaeton, UK Drill, American trap/hip hop music, psychedelic rock and 80s pop. His unique instrumentals include gritty drill/trap bangers, drill flavoured poppy Rnb cuts, eerie/psychedelic melodic trap/drill and punchy drums allowing space for an artist to be creative with their vocals
Banner Image features artwork by Ryan Denner, 'God' 2023, papier mache on a lamp with electronics. Photographed by Charlotte Smith